"Song of Angels"
Freddy Hayler Biography/Testimony





Brother Freddy Hayler - "Without my faith in the Lord Jesus Christ, the grace of the Lord, the Holy Spirit and my lovely wife of 24 years, the Song of Angels® Project would not have been possible." "I thank God Almighty who gave me a heavenly vision Christmas night 1997 which inspired me to do this glorious worship project."
Freddy and Annie Hayler are internationally known "missionary evangelists" who preach a powerful message calling the church to repentance, holiness and reformation with the Lord confirming His Word with divine healings, miracles and signs and wonders . . . the Holy Spirit confirming a true message that is from the heart of God for this late hour.
Thousands have come to salvation and a deeper knowledge of Christ and many have been divinely healed through the manifest supernatural presence of God which attends their unique ministry of prophetic music and the preaching and teaching of God's Word.
A Voice in the Wilderness...
The "Spirit of Elijah" has indeed come in these days to separate the wheat from the tares, the holy from the profane and to prepare a morally unblemished body of Christ for the Marriage Supper of the Lamb. Their vision is to reach the world with the gospel of the Lord Jesus Christ and like "a voice crying in the wilderness," call the saints to repentance, consecration and moral purity in urgent preparation for the imminent return of the Messiah. Freddy and Anne pray that as you listen to each message, you will receive a divine impartation from God that will affect an eternal change in your life! Their continual intercession is that the revival fires of heaven fall upon each listener and that such revival flames will be fanned by the Holy Spirit to empower all who would hear to reach all the nations. God wills that you will become a vibrant witness of His hope and salvation so that you as an individual will declare His Glory by laying hands on the sick and teaching and preaching God's Word! But how does one declare His glory when they have not known what His Glory is and when they have not experienced His weighty presence in private worship and prayer? We pray that the Song of Angels' message will give all of you a hunger for more of God's presence, a love for His irresistible Word, and a revelation for His will for your life!
On a more personal note, I would like to leave you with a message from the Lord and share some spiritual insights and experiences that my wife and I have had regarding heavenly visions and encounters with the Lord Jesus and His angels. In fact, our testimonies are the theme in which the lyrics of the entire Song of Angels are based.
Early on...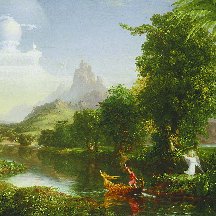 I was born into a Catholic, Bostonian family of ten children. Although I had some general religious convictions, I had no genuine faith in Christ. I just had nominal faith in God and did not really understand what it meant, in the Biblical sense, to be "born again" and baptized in the Holy Spirit until I was 20 years old. However, I had my first supernatural encounter with God when, while barely a teenager, I was dying from a drug overdose on a warm summer's night on the Fourth of July. It was in that desperate situation and struggle for life that Jesus first appeared to me in a vision. I was virtually dying. He literally restarted my heart and taught me how to "breathe again." I know this might sound strange to some who have never been involved with heavy drugs and gangs but because of the effect of the overdose of the drug my body functions literally began to stop. It was at that moment that Jesus rescued me from certain death and asphyxiation that I first realized that He is a personal God of love who intensely cared whether I lived or not. It was as if centuries earlier Ezekiel had seen me in my own sorry plight when he prophesied this following scripture regarding the mercy of God on sinners. In fact, as a very young teenager I was laid out not just in an open field but on a major interstate highway at 2:00 am, not knowing where I was or the fact that cars were speeding by me at 70 miles per hour!
None eye pitied thee, to do any of these unto thee, to have compassion upon thee; but thou was cast out in the open field, to the loathing of thy person, in the day that thou was born. And when I passed by thee, and saw thee polluted in thine own blood, I said unto thee when thou was in thy blood, Live; yea, I said unto thee when thou was in thy blood, LIVE! [Ezekiel 16:5, 6]
Several years had passed and though I quit drugs, attended Saint Johns Prep, a Catholic preparatory school (administered by some wonderful Xavian and Franciscan brothers), and improved in my "good works" and fear of God, but still I did not have a personal experience of the saving grace of the Lord in my life. Maybe God was allowing certain things to happen in my life for a purpose but I just didn't know HOW to experience Him. [Romans 8:28] In fact, little did I know at the time that I was about to be birthed into the Kingdom of God by another supernatural encounter with Jesus!

While under a weight of sin and deep depression as a student at college, on the evening before Good Friday I had a supernatural encounter with the GOD OF ALL LIFE. Directly after an FCA (Fellowship of Christian Athletes) meeting on campus I was challenged by the coach of the football team to consider the declarations of the risen Christ and to receive Him as Lord and Savior. Later that same evening a brother led me in the sinner's prayer to be born again and I experienced something that would change my life forever. For the first time in my life, I experienced the living God and only then began to fully understand scriptures that I had read in a gospel tract several years earlier... I promised the Lord that if I ever had the privilege to produce my own album I would always give His eternal plan of redemption for those who would listen to it. I wish I had heard such a plan earlier in my own life.
For you who are non-believers in Christ, I pray as you listen to this music that you begin your journey to eternity at the foot of the cross of Calvary. This is the place of God's sacrifice and this is the place where your old man must die in order for your new man to be born again. This is where Jesus was crucified and where His blood was poured out for the forgiveness of your sins. God wants you to become a new creature in Chris. [2 Corinthians 5:17] THERE IS NO SUBSTANCE IN THE UNIVERSE MORE POWERFUL THAN THE ROYAL, RED, RUBY BLOOD OF THE LORD JESUS CHRIST THAT WILL CLEANSE YOU FROM ALL YOUR SINS. REPENT THEREFORE, TURN FROM YOUR SINS AND ASK HIM TO CLEANSE YOU OF ALL SINS OF OMISSION AND COMMISSION (KNOWN AND UNKNOWN). And you know what? Jesus will do it. The simple tract I found contained the following scriptures. You who do not know Christ, confess and memorize these scriptures...
God's simple plan of Salvation...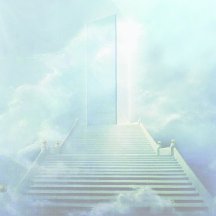 For all have sinned, and come short of the glory of God; [Romans 3:23]
For the wages of sin is death; but the gift of God is eternal life through Jesus Christ our Lord. [Romans 6:23]
For God so love the world that whosoever believes in Him should not perish but have eternal life. [John 3:16] Jesus said...
"Marvel not that I say unto you, you must be born again". [John 3:7-8]
Behold, I stand at the door, and knock: if any man hear my voice, and open the door, I will come in to him, and will sup with him, and he with me. [Revelation 3:21]
That if thou shalt confess with thy mouth the Lord Jesus, and shalt believe in thine heart that God hath raised him from the dead, thou shalt be saved. For with the heart man believe unto righteousness; and with the mouth confession is made unto salvation. [Romans 10:9,10]
The next step...
After receiving Christ as Lord and Savior, I naturally wanted all that Jesus offered to me in the Bible! So should you.
Empowerment for holy living and effective ministry...
As a young Catholic I had heard of the "baptism of the Holy Spirit." I had heard this mentioned in a ceremony called "Confirmation" but I didn't realize that the third person of the Trinity wanted to fill me and live through me. [John 14:11-18, 15:26, 16:7-14] Later in my walk with God, I discovered in my studies of past revivals that many of the great evangelists and Christian statesmen (i.e., John Wesley, Charles Finney, D.L. Moody, R.A. Torrey, Evan Roberts, Andrew Murray, Watchmen Nee, etc.) had all experienced what they called a "second work of grace," a "baptism of fire," or baptism of the Holy Spirit." As I repented of my sins and asked Jesus into my heart and for Him to baptize me in the Holy Spirit, I felt unutterable words of love and fire well-up from my stomach [John 7:38] and began to utter what Paul refers to in the scriptures as a heavenly language...
...with groanings too deep for words... [Romans 8:26]
It was as if a bolt of white-hot lightning struck me on the top of my head and ran down through my entire body as I began to leap for joy and went running to and fro the campus proclaiming... "Jesus is alive, Jesus is alive." Hundreds of students studying for finals in their dorms had their windows open that balmy spring night and without a doubt heard the plan of salvation shouted from the famed Sunken Gardens in historic Williamsburg, Virginia! Quite frankly, I did not care what any person thought of me. Like the unconverted, pseudo-educated Saul of Tarsus, "I had become a fool for Jesus!" [Romans 1:16, I Corinthians 4:10] I really wanted to be filled with the Holy Spirit and would not let the fear of the unknown rob me from God's great gift of the Holy Spirit... I recalled later that evening rushing back to my dorm room like the proverbial "Berean" Christian to search the scriptures for a validation of my biblical experience. I say as St. Augustine...
"I do not understand in order to believe, but I believe in order that I might understand."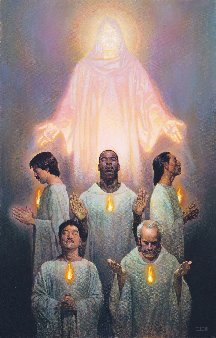 Faith in God will always precede true knowledge of Him.
For faith is the substance of things hoped for. The evidence of things not seen... but without faith it is impossible to please Him: for He that cometh to God must believe that He is, and that He is a rewarder of them that diligently seek Him. [Hebrews 11:1, 6]
Without faith it is impossible to please Him! Don't even think of approaching God without it! In fact God wants YOU to have a supernatural encounter of a heavenly kind! But YOU must seek, and YOU must find, and YOU must do it as a little child by faith alone. Ask and you shall receive, seek and shall find... Jesus said...
If ye then, being evil, know how to give good gifts unto your children: how much more shall your heavenly Father give the Holy Spirit to them that ask Him? [Luke 11:13]
Fire on You Again!
And, being assembled together with them, commanded them that they should not depart from Jerusalem, but wait for the promise of the Father, which, saith he, ye have heard of me. For John truly baptized with water; but y shall be baptized with the Holy Ghost not many days hence. But ye shall l receive power, after that the Holy Ghost is come upon you: and ye shall be witnesses unto me both in Jerusalem, and in all Judea, and in Samaria, and unto the uttermost parts of the earth. [Acts 1: 4,5, 8]
And when the day of Pentecost was fully come they were all with one accord in one place. And suddenly there came a sound from heaven as of a rushing mighty wind, an it filled all the house where they were sitting. And there appeared unto them cloven tongues like as of fire, and it sat upon each of them. And they were all filled with the Holy Ghost, and began to speak with other tongues, as the Spirit gave them utterance. [Acts 2:1-4]
Now when the apostles which were at Jerusalem hard that Samaria had received the word of God, thy sent unto them Peter and John: Who, when they were come down, prayed for them, that they might receive the Holy Ghost: (For as yet he was fallen upon non of them: only they were baptized in the name of the Lord Jesus.) Then laid they their hands on them, and they received the Holy Ghost. [Acts 8:14-17]
While Peter yet spoke these words, the Holy Ghost fell on all them which head the word. And they of the circumcision which believed were astonished, as many as came with Peter, because that on the Gentiles also wa poured out the gift of the Holy Ghost. For they heard them speak with tongues, and magnify God. Then answered Peter, can any man forbid water, that these should not be baptized, which have received the Holy Ghost as well as we? [Acts 10:44-47]
...He said unto them, have you received the Holy Ghost SINCE you believed?... Then said Paul, John verily baptized with the baptism of repentance... when they heard this they were baptized in the name of the Lord Jesus. And when Paul had laid his hands on them: and they spoke with tongues and prophesied. [Acts 19:2-6]
It is self-evident from the context that it was a habit of Paul to ask believers when he met them this question... "Have you received the Holy Spirit since you believed?" It is plain here that the Apostle upon meeting these certain believers, had no idea that they were the disciples of John the Baptist until after he asked them this question. It is appropriate therefore that we should ask other believers in this day have you received the Holy Spirit since you believed... Jesus admonished His own disciples, who walked with Him on Earth for nearly three years to receive the Holy Spirit that he would send them upon returning to His Heavenly Father. [John 20:22] He knew they would need the dynamite power of the Baptism of the Holy Spirit in order to overcome the spirit of darkness in the world and bondage of satan's supernatural power. That's why he told them to tarry or wait in Jerusalem and seek earnestly this great blessing before evangelising the world. So we should do the same.[Acts 1:4-8]
Isaiah the Prophet wrote centuries earlier of a generation of believers who would yield their tongues to the Holy Spirit:
...For with stammering lips and another tongue will he speak to this people... [Isaiah 28:11]
Likewise, the Spirit also helpeth our infirmity: for we know not what we should pray for as we ought; but the Spirit Himself maketh intercession for us with groanings which cannot be uttered. [Romans 8:26]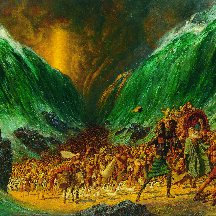 The Apostle Paul said that it is God's desire to baptize (i.e. "immerse") you not only in water, but he figuratively speaks of other baptisms as well. In Hebrews 6:2, Paul directly speaks of the doctrine of baptisms (i.e. Gk. plural - immersions). In one sense, there is only one baptism into Christ. This occurs at the moment we ask Jesus to come into our heart in order to be born again. There is a passing of the old nature and a birth of the new. [Romans 6:3, 9:10; I Corinthians 12:13, II Corinthians 5:17-21] This is a spiritual phenomena which occurs when the Spirit of God literally thrusts us into the spiritual body of our Lord and Savior. His life is now our life and we live by faith in the Son of God. [Galatians 2:20, 21] But before this can occur, the Bible speaks of a baptism of repentance. We see this in the ministry of John the Baptist [see Mark 1:4 and Luke 3:3]; and also strongly evidenced in Peter's preaching...
...then Peter said unto them, repent, and be baptized, every one of you, in the name of Jesus Christ, for the remission of sins and you shall receive the gift of the Holy Spirit. [Acts 2:38]
The early church, in fact, preached that the fullness of the Holy Spirit was to be preceded by repentance and confession in Christ. In other words, early Christians were taught by Church fathers to fully receive the Holy Spirit at conversion. Yet many today fail to teach unbelievers that one needs to ask Jesus into their heart first in order to be filled with the Holy Spirit. They teach that with simple confession, the new convert "gets it all" but as Catherine Marshall has written, there is indeed "something more." John Wesley called this "something more" a "second work of grace" (or entire santification) while D.L. Moody called it the baptism of the Holy Spirit. Therefore, before we can come to Christ, we must ask God to immerse us in a spirit of repentance from the sins of the Adamic nature and dead religious works. We then take the next step to publically proclaim what has already occurred in our hearts through faith in Jesus. [Mark 16:16]
We today, like the early church, need to re-establish the fact that there are other immersions that are extremely important to us as believers. Yes, there is a baptism into water (an outward act of obedience to God's commands), but there also needs to be understanding concerning the baptism into the blood of Jesus; the baptism into His Holy Spirit, and the baptism of fire!
Sprinkling of His Blood...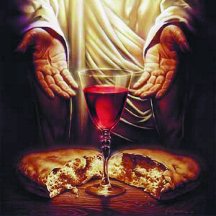 Jesus is our "Passover" lamb and without the shedding of blood there is no remission of sins. [Exodus 12:3-7, Leviticus 17:6-12, Psalm 22:16 Luke 22:44, John 6:48-58, I Corinthians 5:7; 11:23-31, Hebrews 9:22; 10:21-22; 12:24, I Peter 2:24, Revelation 12:10-11] The sacrament of Holy communion/The Lord's supper, is an outward celebration of believers to remember and to celebrate the shedding of His precious all powerful blood for the forgiveness of sins and for our healing. Upon our sincere, first confession of Jesus Christ as Lord and Savior, the Holy Spirit performs a mystical baptism that the eye cannot see. [John 3:8] The Apostle Peter speaks of the Holy Spirit sprinkling the blood of Jesus upon our consciences [1 Peter 1:2]. This is a supernatural baptism or sprinkling that we cannot see with our natural eyes, although we feel the power of it working in our lives through faith when we confess Christ as Lord and Savior. The baptism of blood involves Holy Spirit who is the baptizer and the medium is the blood of Jesus! (whose blood now and forever has been offered upon the mercy seat in heaven) [Hebrews 9:12-25]
"Baptism" into Christ's Death
However, in Romans 6:3-6, Paul also speaks of a baptism of death. Watchman Nee has written a wonderful book entitled "The Normal Christian Life." It speaks of a baptism into Christ's death [Romans 6:1-10, Colossians 2:12]. As we begin to walk with God, we see we need to continually reckon ourselves as dead to the old sin nature. We need to daily reckon or account ourselves dead with Christ! [Galatians 2:20] The baptism of death is an ongoing crucifying of the old sin nature by seeing ourselves as vicariously crucified with Christ. We need this daily reckoning in order to conquer the sins that would so easily beset us. [Romans 6:1-6]
"Baptism" in H20
There is also a baptism in water in which man is the baptizer and the medium is water (H2O). The water is an outward sign and witness to men and God, that the person being baptized is confirming his/her inward experience of salvation [John 3:10-17] and is willing to identify with the substitutionary death of Christ on the cross. By the outward act of obedience in submitting oneself to going down into the waters (with the aid of a person in ministry) one symbolizes their burial with Christ. As they come up out of the water, this typifies their new resurrected life in Jesus!
Baptism of Fire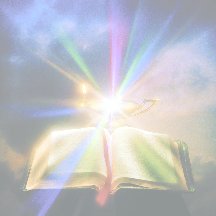 But there is another baptism that many Christians still need to experience. Yes, at salvation, you "get/obtain" the Father, the Son and the Holy Spirit. [Matthew 28:19] In fact, all three dwell in you by God's grace, through simple, sincere faith in Jesus Christ! You cannot divide the Trinity. But there is something more that the bible speaks of after salvation and it's for every believer! Let me give you an simple illustration. When you have a guest visit you at your home and you are not at the front door to greet him, you may call out from the kitchen or from another room, "Come on in, I'll be with you in a minute." As the person stands in the foyer, they are in fact waiting to be received. The guest is in the house, but because that guest has manners, they will not just walk in and make themselves at home. You must first leave the kitchen and go and receive your guest in order for him to make himself at home. So it is with the person of the Holy Spirit. At salvation, he is like a guest coming into our home (our temple which is our spirit, soul and body).We must fully then receive Him in order to make our whole home [1 Thessalonians 5:23] entirely His! [I Corithians 6:19] Therefore, as believers, we should now want to receive the Holy Spirit and ask Him to fill and inhabit our whole house. This is what John the Baptist spoke of when he said,
...I indeed baptize you with water unto repentance: but he that cometh after me is mightier than I, whose shoes I am not worthy to bear: He shall baptize you with the Holy Ghost and with fire... [Matthew 3:11]
Jesus also said,
...if you then, being evil, know how to give good gifts unto your children; how much more shall your heavenly Father give the Holy Spirit to them that ASK HIM?
Here we see that the baptism of the Holy Spirit involves Jesus as the baptizer, and the medium is the fiery, Holy Spirit of God! I ask, therefore, how can one be baptized in fire if that individual does not know Jesus to begin with? How can you ask someone to do something that you do not know? Some may say, "But I got the Holy Spirit at salvation." This is true. You do have the Holy Spirit. But receiving Him is a different experience altogether. Certainly the baptism of the Holy Spirit can simultaneously occur at one's conversion. The Bible records this occurance. [Acts 2:38] We also find that the baptism in the Holy Spirit can also precede water baptism (water baptism is an important part of our obedience and sanctification, but is not a prerequisite for salvation). [Acts 10:47-48] But many Christians have not because they ask not or they have not because they do not know to ask. The Holy Spirit is a gentleman. He has manners. He will never force Himself upon anyone. He will only fill and immerse a pure vessel who has been washed in the blood of Jesus who is consecrated, set apart, and hungry for more of Him. He patiently waits for you to ask Him to fill your life! But first there must be thirst. There must be hunger. All of us as believers should ask Jesus to completely fill them with the Holy Spirit! This empowers one for service. This is what the disciples waited for in the upper room [see Acts 1:8, 2:1-10]. We need all of God's "baptisms" (i.e. immersions) in order to avail ourselves to the full measure of the fruit of the Spirit [Galatians 5:22-23] and the supernatural gifts of the Spirit. The Apostle Paul teaches us to seek "continual infillings" of the Holy Spirit. One of the ways to stay filled with the Holy Spirit is found in the following passage...
...and be not drunk with wine, in which is excess, but be filled (i.e. in Gk. meaning "continually") with the Spirit, speaking to yourselves in Psalms and Hymns and Spiritual Songs, singing and making melody in your heart to the Lord. [Ephesians 5:18-19]
You can not be filled with the Holy Spirit if you are living in habitual and unrepentant sin because the pure spirit of God is holy. The Holy Spirit can be greived, quenched, insulted, withdrawn, and even, God forbid, deliberately blasphemed! [Mark 3:22-30, Galatians 5:22-24]
...who is he that overcometh the world, but he that believeth that Jesus is the Son of God? This is He that came by water and blood, even Jesus Christ; not by water only, but by water and blood. It is the spirit that beareth witness, because the Spirit is truth. AND THERE ARE THREE THAT BEAR WITNESS IN EARTH, THE SPIRIT, AND THE WATER, AND THE BLOOD: THESE THREE AGREE IN ONE... [1 John 5:6-8]
In other words, the entire Trinity is involved with our salvation (this is a mystery - again, you cannot separate the Godhead!)
Yes, you do get the Holy Spirit at salvation. He comes into your heart. But now you need to ask the Lord to take you to the next level. You need to get in an upper room and ask for the Holy Spirit to fall upon you and to fill and immerse your entire being in order to have increased effectiveness in Christian ministry. Otherwise, you are not operating on all cylinders! The 120 of the inner circle of Jesus were hungry enough to pray and seek God's face for ten straight days before the Holy Spirit came upon them mightily in the upper room. [Acts 2:1-4] Therefore, Ask the Lord Jesus whom you now know and love through your salvation experience to baptize you in the fire of His Holy Spirit! Even as D. L. Moody, R. A. Torrey, Andrew Murray, John Wesley, Watchman Nee, etc. all have done.
The Holy Spirit... Don't Leave Home Without Him.
Therefore, if you want to flow in the supernatural and walk in victory. and holiness during this evil hour, YOU need the baptism in the Holy Ghost! Having this wonderful experience will lead to your operating more and more in the gifts of the Holy Spirit and will cause you to continually walk in the Holy Spirit's infillings. Your entire ministry will have increased spiritual fruit beyond what you can imagine possible! [Ephesians 3:20-21]
Decently and In Order...
It is decent and in order for churches today to pray for the sick, cast out devils, dance and praise before the Lord etc... These are the acts of the "new creature" [Mathew 10:8; Mark 16:17-18] It is intriguing to study the Apostle Paul's explanation to the church of Corinth (they were misusing the gifts) regarding the spiritual gifts God has promised to all His people who desire them. [I Corinthian 14:1] Paul commands all of us regardless of our denominational backgrounds to earnestly desire the spiritual gifts of the Holy Spirit. [I Corithians 12-14] Some of these gifts are revelatory, some are power gifts, etc.. but whether the greatest or the least why would any Christian not desire all of them...
Regarding the gift of tongues Paul says...
He that speaketh in an unknown tongue edifieth himself... [1 Corinthians 14:4]
For if I pray in an unknown tongue, my spirit prayeth, but my understanding is unfruitful. [1 Corinthians 14:14]
I cannot conclude from the plain meaning of the text and the original Greek language, even for a moment, how some bible teachers even intimate that tongues (Glossolalia-gk.) meant learn human languages! [I Corinthians 13:1]
Regarding the other supernatural gifts Paul says...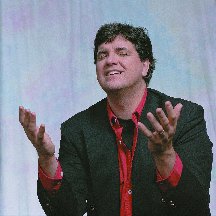 To another faith by the same Spirit; to another the gifts of healing by the same Spirit;
To another the working of miracles; to another prophecy; to another discerning of spirits; to another divers kinds of tongues; to another the interpretation of tongues:
But all these worketh that one and the self-same Spirit, dividing to every man severally as he will. [1 Corinthians 12:9,10]
At the time of my salvation, I had no understanding of the above scriptures which I later realized confirmed what was happening to me experientially! It didn't matter what people thought of me, I was going to be a witness for Jesus after experiencing the God of my salvation! God had healed my mind and delivered me from the guilt of sin and inner fear and many were converted that following year on that campus.
For Paul wrote Timothy...
For God hath not given us the spirit of fear; but of power, and of love, and of a sound mind. [II Timothy 1:7)]
I must have confessed that scripture promise thousands of times during that summer as God did a tremendous work of inner healing in my life. Listen, my friend, God will do the same for you if you cry out to Him with all your heart. It doesn't matter what situation you're in. It doesn't matter how far you have backslidden, whether you are in bondage to drugs, alcohol or sins of immorality, it doesn't matter if your mind has since been burned out by such sinful abuse, what sin you've committed or what you've done or whatever the devil has done to you, God is no respecter of persons. What he has done for me He will do for you! He is the great Deliverer, Healer, Saviour and Redeemer! [Acts 4:12,10:34,38]
Celestial Encounters of God...
In fact, this album is about supernatural encounters with God that you and I are entitled to as believers. The real "normal" Christian life involves the supernatural power of God. It is "abnormal" for the Evangelical church to primarily operate in the cerebral realm or lower realm of the emotions when God wants our spirit man to come alive. [I Thessalonians 5:23] Even some Pentecostal movements can become traditionalized. Therefore, we need to stay away from men's traditions which are void of the glory of God.
Whether it's high church liturgy or charismatic enthusiasm, let us examine our hearts to see if we are truly seeking God's living presence and holiness of character. [1 Corinthians 11:28, 2 Corinthians 13:5]
And let us not just always look for the "lightning-bolt" experience, because God can visit us in a variety of ways that oftentimes are simply gentle impressions by the wooing of the Holy Spirit's still, small voice. It has been said that the Lord will whisper to you through His Word in Bible study, speak to you through your conscience and through the God-given authorities in your life, and shout to you through your trials and tribulations! However, we still should also consider that if the Lord would operate with supernatural and tangible power and miracles in the early church why would we expect him to move differently in the present church age? [Hebrews 13:8] Has God changed his ways just because we have the complete New Testament revelation? Let us never forget there is no "Amen" at the end of the book of Acts! This is because the supernatural Acts of the Holy Spirit continue until this day. I can say first hand, God's miraculous power and His holy angels have not deserted us for another universe!
A Divine Sense of Urgency...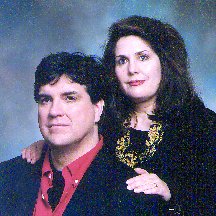 It is now time for Christian households to sanctify their homes of evil things and influences. We need to keep our children from the knowledge of evil and the unholy anti-law spirit of new "antinomianism" which pervades our churches and culture. As in Noah's day God is still more concerned about the qualitative conditions of our hearts rather than the boasts of "spurious – false conversions". We need to chanak. [Hebrew. Strongs 25:96] That is, narrow the way of our children concerning their exposure and understanding of evil. That may mean no "spending the night " with certain individuals or strictly controlling what they see on television (including ungodly demonic commercials)! [Proverbs 22:6, Romans 16:19] "Train (chanak) up your child in the way they should go and when they are old they will not depart from it".
It has been my prayer that in some profoundly small and simple way this music encourages you to love Jesus more than ever before! And Church, please welcome the precious Holy Spirit. Let us not through sin or unbelief grieve or quench Him any longer! We should pray... "Holy Spirit please come!" Indeed, the anointing of the Holy Spirit has been likened to oil throughout the Bible. As satan's time-lease on planet earth is expiring, he has stepped up his spiritual warfare against the saints. That's why Jesus admonished us to keep oil in our lamps, for without the fullness of the precious Holy Spirit, it will be hard to stand in these troubling times. Therefore, like a good soldier, stand my brother and sister. The time is short! Prepare your hearts in purity and holiness! Get oil in your lamps! Jesus is coming! MARANATHA!
Tons of love!

Freddy and Annie Hayler

If you would like to receive Salvation, through a personal relationship with Jesus Christ or obtain information about God's Salvation Plan Click Here.