"Behold, I stand at the door and knock. If anyone hears My voice and opens the door, I will come in to him and dine with him, and he with Me." - Jesus (Revelation 3:20)



1.
Acknowledge
- realize and admit you have acted wrongly against God's laws. (read the 10 Commandments (Exodus 20:3-17) Are you a good person? Take the Good Test

"For all have sinned and come short of the glory of God."

(Romans 3:23)



"God be merciful to me a sinner."

(Luke 18:13)


2.
Repent
- feel honest regret for these wrong-doings

"Except ye repent, ye shall all likewise perish."

(Luke 13:3)

3.
Confess
- admit these mistakes

"If we confess our sins, He is faithful and just to forgive us our sins, and to cleanse us from all unrighteousness."

(1John 1:9)



"If thou shalt confess with thy mouth the Lord Jesus, and shalt believe in thine heart that God hath raised Him from the dead, thou shalt be saved."

(Romans 10:9)

4.
Forsake
- try your very best not to do them again

"Let the wicked forsake his way, and the unrighteous man his thoughts; and let him return unto the Lord...for He will abundantly pardon."

(Isaiah 55:7)

5.
Believe
- know Jesus died for you

"For God so loved the world that He gave His only begotten Son, that whosoever believeth in Him should not perish, but have everlasting life."

(John 3:16)



"He that believeth and is baptized shall be saved; but he that believeth not shall be damned."

(Mark 16:16)

6.
Receive
- ask Him to be a part of your life

"He came unto His own, and His own received him not. But as many as received Him, to them gave He power to become the sons of God, even to those that believe on His name."

(John 1:11, 12)

What to pray:



"God, I am a sinner. I ask you to forgive me of my sins. I believe in my heart, and confess with my lips, that Jesus Christ is my Lord and Savior. Come into my heart Jesus. Take my life, I surrender it to you. From this moment on, I will live my life according to the Bible and serve you. Thank you for taking away my sins and giving me everlasting life. In the name of Jesus I pray, amen". - Click Here (If you prayed this prayer for 1st time or are rededicating your life to serving God)



"Therefore if any man be in Christ, he is a new creature: old things are passed away; behold, all things are become new."

(2 Corinthians 5:17)




................

Born - Again
If you have received Jesus Christ as your Saviour, as a Christian you should:
.............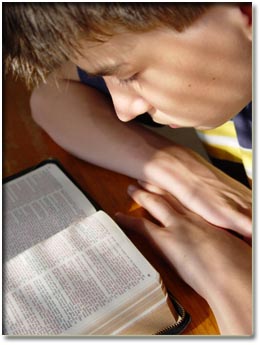 Read your Bible every day to get to know Christ better.

"Study to shew thyself approved unto God, a workman that needeth not to be ashamed, rightly dividing the word of truth."

(2 Timothy 2:15)

"Thy word is a lamp unto my feet, and a light unto my path."

(Psalms 119:105)



Talk to God in prayer every day.

"And all things, whatsoever ye shall ask in prayer, believing, ye shall receive."

(Matthew 21:22)

"Be careful for nothing; but in every thing by prayer and supplication with thanksgiving let your requests be made known unto God."

(Philippians 4:6)



In the River (Download)



Be baptized, worship, fellowship, and serve with other Christians in a church where Christ is preached and the Bible is the final authority.

"

Go ye therefore, and teach all nations, baptizing them in the name of the Father, and of the Son, and of the Holy Ghost:"

(Matthew 28:19)

"Not forsaking the assembling of ourselves together, as the manner of some is; but exhorting one another: and so much the more, as ye see the day approaching."

(Hebrews 10:25)

"All scripture is given by inspiration of God, and is profitable for doctrine, for reproof, for correction, for instruction in righteousness:"

(2 Timothy 3:16)





Tell others about Christ.

"And he said unto them, Go ye into all the world, and preach the gospel to every creature."

(Mark 16:15) "

For though I preach the gospel, I have nothing to glory of: for necessity is laid upon me; yea, woe is unto me, if I preach not the gospel!"

(1 Corinthians 9:16)

"For I am not ashamed of the gospel of Christ: for it is the power of God unto salvation to every one that believeth; to the Jew first, and also to the Greek."

(Romans 1:16)


Click Here for Additional Information to help you with your new life in Christ.
I. Thou shalt have no other gods before me.

(Exodus 20:3)



2. Thou shalt not make unto thee any graven image, or any likeness of any thing that is in heaven above, or that is in the earth beneath, or that is in the water under the earth. Thou shalt not bow down thyself to them, nor serve them: for I the LORD thy God am a jealous God, visiting the iniquity of the fathers upon the children unto the third and fourth generation of them that hate me

; (Exodus 20:4-5)

3. Thou shalt not take the name of the LORD thy God in vain; for the LORD will not hold him guiltless that taketh his name in vain. (Exodus 20:7)

4.
Remember the sabbath day, to keep it holy. Six days shalt thou labor, and do all thy work: But the seventh day is the sabbath of the LORD thy God: in it thou shalt not do any work, thou, nor thy son, nor thy daughter, thy manservant, nor thy maidservant, nor thy cattle, nor thy stranger that is within thy gates: (Exodus 20:8-10)

5.
Honor thy father and thy mother: that thy days may be long upon the land which the LORD thy God giveth thee. (Exodus 20:12)

6.
Thou shalt not kill. (Exodus 20:13)

7.
Thou shalt not commit adultery. (Exodus 20:14)

8.
Thou shalt not steal. (Exodus 20:15)

9.
Thou shalt not bear false witness against thy neighbor. (Exodus 20:16)

10.
Thou shalt not covet thy neighbor's house, thou shalt not covet thy neighbor's wife, nor his manservant, nor his maidservant, nor his ox, nor his ass, nor any thing that is thy neighbor's. (Exodus 20:17)


Jesus said unto him,

Thou shalt love the Lord thy God with all thy heart, and with all thy soul, and with all thy mind. This is the first and great commandment.

(Matthew 22:37-38)

And the second is like unto it,

Thou shalt love thy neighbor as thyself. On these two commandments hang all the law and the prophets.

(Matthew 22:39-40)
When Prayers Don't Seem To Be Answered



I asked God to take away my pain.
God said, No. It is not for me to take away, but for you to give it up.

I asked God to make my handicapped child whole.
God said, No. Her spirit was whole, her body was only temporary.

I asked God to grant me patience.
God said, No. Patience is a byproduct of tribulations; it isn't granted, it is earned.

I asked God to give me happiness.
God said, No. I give you blessings. Happiness is up to you.

I asked God to spare me pain.
God said, No. Suffering draws you apart from worldly cares and brings you closer to me.

I asked God to make my spirit grow.
God said, No. You must grow on your own, but I will prune you to make you fruitful.

I asked for all things that I might enjoy life.
God said, No. I will give you life so that you may enjoy all things.

I ask God to help me LOVE others, as much as he loves me.
God said...Ahhhh, finally you have the idea.
——————— Author Unknown