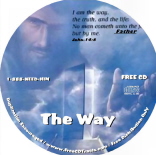 About This Tract- This CD Tract is intended for the seeker. It is centered around this one "Truth".

"I am the Way, the Truth, and the Life; no man cometh unto the Father but by me." - Jesus
~ John14:6

Special thanks goes out to Simon of Ireland for this wonderful COMP.